Dog & Cat Boarders
Dogs are accommodated in spacious, heated kennels and supplied with plastic beds lined with 'fleecey' vet-bedding. All dogs are exercised individually, on a lead, twice daily. Our location next to The Great Glen Way allows for interesting and varied walks which our boarders thoroughly enjoy.
Cats have split level chalets to give variety and space, plus spectacular views of the Glen offering endless stimulation. Every chalet is individually heated and supplied with plastic beds lined with 'fleecey' vet-bedding.
Top quality complete biscuit and tinned food is served twice daily.
Pet foods, toys, treats and sundries are available at competitive prices. Space limits our stock range but we are happy to take orders for specific items on request.
If you haven't booked with us before, please fill in a booking enquiry here ...
Vaccinations & Special Care
All boarders must have had their Booster vaccination, including Kennel Cough for dogs, within the previous 12 months and at least fourteen full days prior to boarding. Please bring their vaccination certificate every visit.
We reserve the right to refuse admission to the kennels if these requirements are not met.
Familiar smells are comforting in a strange place and will help your pet settle in more quickly. We are happy for you to bring items that smell of home - such as a blanket, bedding, an old jumper, favourite toy etc.
Let us know of any special care or treatment your pet may require. Special diets or feeding regimes catered for on request. We have a resident veterinary nurse should medication be needed. We are experienced in problem or nervous dogs. Collection and delivery of pets can be arranged.
Dog Grooming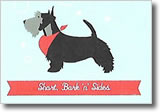 Short, Bark 'n' Sides
Marsha Broadley, Dog Groomer. 62 Balmacaan Road, Drumnadrochit.
Email: marsha.broadley@hotmail.co.uk
Tel: 07852 909250